The angry bird birthday party was a huge success! I have never had such a good time planning a party. Thanks to pinterest, I'm already looking forward to the next one!
I think photos are probably the best way to tell you how great it turned out.
The lifesize angry birds game. We had originally planned on painting the boxes to make them look like wood and ice, but we decided kind of last minute not to spend the extra time and money. No one cared. :)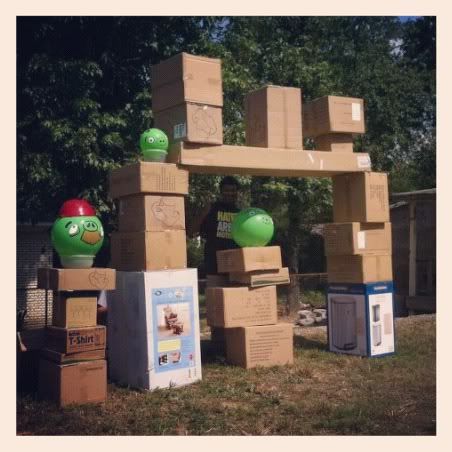 The ammo. Found these balls at Wal-Mart (Large size were 2.50 each, small were 1.50) and freehanded the faces on with acrylic paint. I had to let them dry and do a couple of layers to get good solid color.
Things like this leave me in awe of my husbands creativity. He came up with this slingshot using scrap lumber, exercise bands and a whole foods bag! The head swiveled too!
I made a trade with a friend from church: photography for these awesome angry bird cupcakes. Gotta love the barter system and talented baking friends!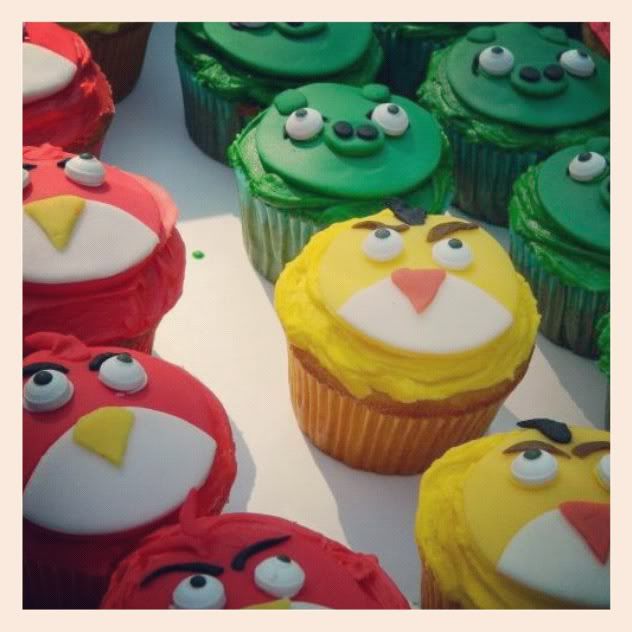 The popcorn bar. Printed the faces for free off here:
The Party Animal
. Air popped popcorn into one dollar buckets from Michael's and provided an array of flavors and toppings like Parmesan cheese and M&Ms.
The bags for the popcorn bar.
The boys and I made these cute little guys to use in place of confetti when decorating the tables. Little pom-poms, 5mm googly eyes, pipe cleaners, tacky glue and card stock. All from Michael's. These were a cheap little touch and were a lot of fun to make.
And the very best part, my sweet Asher. So proud to be 5.
The food was devoured before I was able to get photos but I can share my recipe sources. I went with as much of an angry birds theme as I could without getting too processed in the food. I intended to make little signs with cutesy names and clip art, but alas, time ran out. So the theme was lost on most people but they all enjoyed the taste!
Angry Birds Party Menu
Sweet Smoked Piggies
(Bacon wrapped little smokies in brown sugar and butter)
Red Bird Fruit Salsa with Cinnamon Chips
(I put the apples and strawberries in the food processor so it would be a little more salsa-y than this recipe. And I omitted all the sugar. It was quite sweet enough without it)
Angry Bird Rojo Roasted Salsa (Recipe below) and tortilla chips
Ham and Cheese Sliders
(Did these on Kings Hawaiian rolls)
BBQ Pork Sliders (Recipe below)
Very Angry Eggs (Deviled eggs made by the mother in law)
Popcorn Bar (Angry Bird Food)
We also had a bit of randomness like some mason jars of black olives, grapes and blueberries. And a plate of Asher's all time favorite food, Cheese!
Red Roasted Salsa
6 lb. roma tomatoes
2 sweet vidalia onions
10 serrano peppers
1 bunch cilantro
a head of garlic
1/4 cup of honey
3 T. Kosher Salt
Preheat oven to 350. Slice the tomatoes and onions in half. Cut the caps off the peppers. Peel the garlic.
Lay it all out in cookie sheets (I use pampered chef stoneware so they don't get too charred or stick) and roast for about 30-40 minutes. You want things to get nice and toasty, a little black around the edges, slightly caramelized. Keep checking it though because if it burns on a regular cookie sheet, it will wreck havoc by sticking.
After roasting is done, put the ingredients through the food processor with the cilantro, salt, and honey. You'll have to go in batches because this makes a lot of salsa.
Taste and adjust.
You could turn up the heat with more peppers. I originally started with 20 but they were HOT so I only put 10 in. I also made this the day before and packed it in mason jars in the fridge for the flavors to meld a bit. It was delicious.
BBQ Pork Sliders
Makes 12 Slider Sandwiches (we tripled for the party)
1 pork tenderloin (either pre-marinated or plain)
1 package Kings Hawaiian Rolls
1/2 cup ketchup
1/4 cup packed brown sugar
a splash of apple cider vinegar
1 T. BBQ Rub (any variety either sweet or spicy, I used Pampered Chef Smoky Applewood)
If using a plain pork loin, rub it down with some additional rub before cooking. If it's pre-marinated, don't do anything extra.
Cook pork loin at 350 for 45 minutes.
Let rest for 10 minutes before cutting so juices and redistribute.
Slice thin.
Slice rolls open for sandwiches.
Mix ketchup, brown sugar, vinegar and rub together for sauce.
Serve all together on a tray for people to assemble their own sandwiches. I stacked the rolls up on one side, spread the meat out on the other and used a little mason jar with a spoon in it for the sauce.
You can also cook the meat the morning or night before, wrap in foil and just heat it up before serving.